We value, we support, we network
The Carithian Cultural Foundation KKS

The Carinthian Cultural Foundation KKS
We value – Objektives
The objective pursued by the Carinthian Cultural Foundation (KKS) is to make Carinthia visible nationally and internationally as a unique creative space with exceptional talents. We want to strengthen Carinthia's identity as a province with innovative future strategies, in particular by involving the adjoining regions.
We support – Focal Areas
The Carinthian Cultural Foundation supports exceptional artistic ideas, talents and independent cultural initiatives; innovative, future-oriented projects; and productions that have an international outlook. Our support takes place primarily in the form of publicly advertised competitions. For these the Board of Trustees recommends the main focal areas and defines the mix of criteria for allocating the award. Projects are realised without a call for competition if especially short-term opportunities arise, but also in crisis situations. The projects must correspond to the purpose of the Foundation. The Foundation will document its activity via a website and by means of written publications.
We network – Platform
The Carinthian Cultural Foundation wishes to be a platform and cultural ambassador that acts as a positive force in helping to shape the intellectual and cultural future and identity of our province. We are particularly keen to create forward-looking stimuli in the artistic and cultural sector. This can happen via the website, but also via expert symposiums as well as through collaboration with other foundations.
The KKS views itself as an independent and sustainable organisation. It initiates cultural sponsorship by the civil society, which takes place in addition to and independently of public cultural funding. It also wishes to bring together personalities and organisations that are well disposed towards art and culture.
The KKS does not view itself as an event organiser, but as an initiator and enabler of art and culture projects, and it makes its structures available for this.
The initiators – Foundation Directors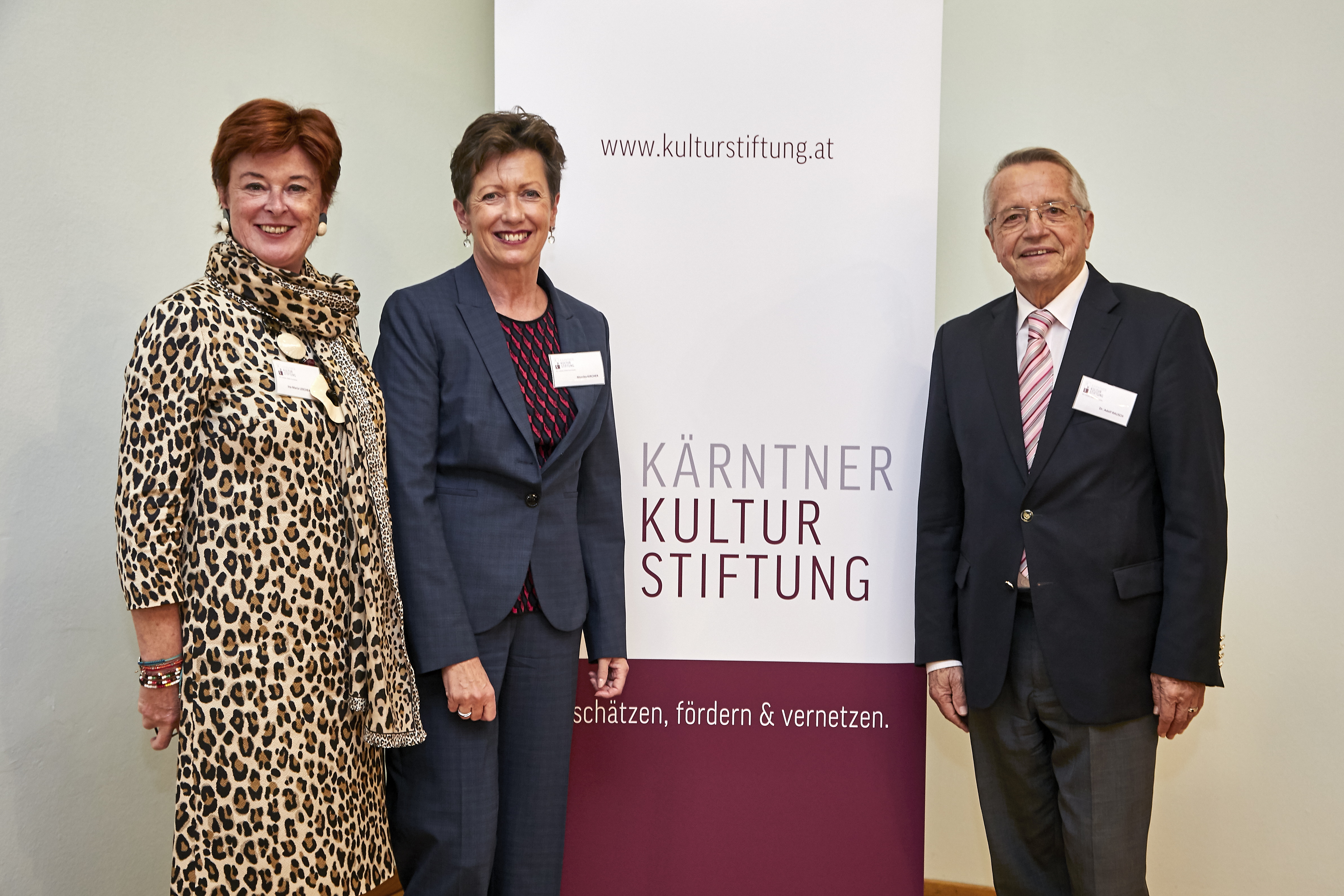 The Carinthian Cultural Foundation KKS was initiated by (left to right):
Mag.a Ina Maria Lerchbaumer
Managing Director of Antonina Betriebs- und Verwaltungs-GmbH and downstream companies
Mag.a Dr.in h. c. Monika Kircher
CEO of Infineon Technologies Austria AG for a number of years,
and member of the supervisory boards of a wide range of companies
Dr. Adolf Rausch
Chartered accountant, an expert on foundations, and Carinthia's representative in the Austrian Association of Charitable Foundations
These three people represent the Carinthian Cultural Foundation externally as Directors of the Foundation, and exercise their activities in an honorary capacity.
The Board of Trustees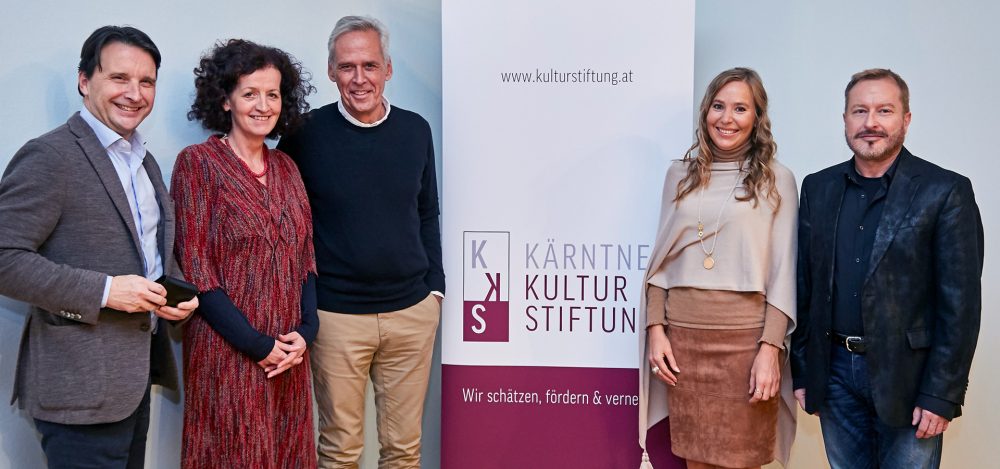 The internationally renowned Board of Trustees is chaired by the ORF cultural journalist Martin Traxl, and is made up of the following members (left to right):
Martin Traxl
Chair of the Board of Trustees, Head of Culture at ORF-TV

Dr.in Maja Haderlap
Writer, dramatist and winner of the Ingeborg Bachmann Prize

Klaus Littmann
International art dealer whose art intervention "For Forest – the unending attraction of nature", the so-called "forest in the stadium", drew great national and international attention to the city of Klagenfurt.

MMag.a Julia Malischnig
Julia Malischnig is active internationally as a guitarist, singer and music teacher. She is the initiator and director of the international guitar festivals "La Guitarra esencial" at Lake Millstätter See and "La Guitarra" at the festival hall in Erl in Tyrol.

Mag. Robert Hofferer
Art and culture manager, and member of the European Film Academy
The Foundation´s assets
The KKS is financed by
Patrons | Donations of over €50,000
Promoters | Donations of up to €50,000
Subscribers | Donations of up to €25,000
Sponsors
and via further donations from the founders and third parties, bequests and other proceeds, supplemented by funding from the national and provincial governments.
The contracts with patrons, promoters and sponsors are individually adjusted to their circumstances and specific objectives in accordance with the attractive tax incentives pursuant to the Income Tax Act (EstG) and the Federal Foundations and Funds Act (BFStG), and are concluded for a term of three or more years.
The Carinthian Cultural Foundation invites companies, organisations and all citizens to become part of this idea, which transcends societies and countries.
Kärntner Kulturstiftung KKS
Liesersteggasse 14
9800 Spittal an der Drau
Represented by:
Mag.a Dr.in h. c. Monika Kircher
Mag.a Ina Maria Lerchbaumer
Dr. Adolf Rausch
www.kulturstiftung.at
office@kulturstiftung.at